Gratis verzending boven €50
Login
Log in if you have an account
Dont have an account? Register
Tips en de beste producten om je Kerst blowout te verlengen
23 Dec 2022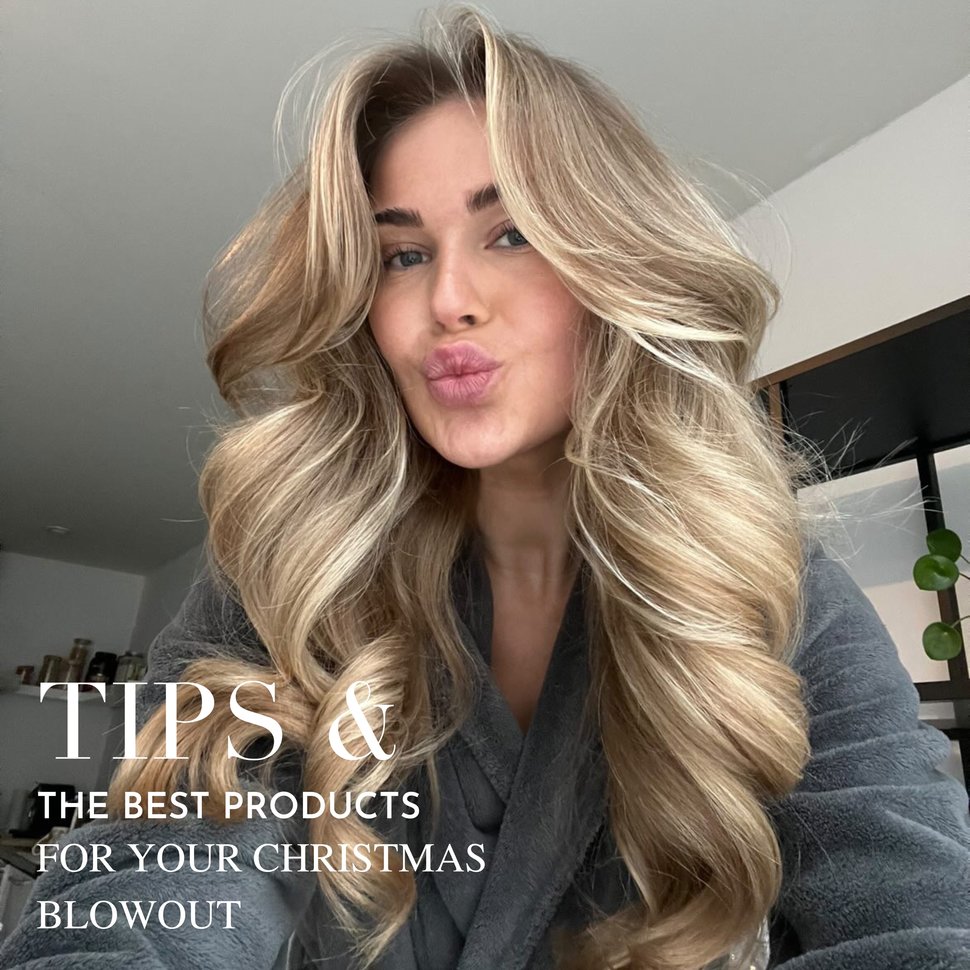 1. Begin met een goede verzorging,
was je haar met een voedende of volume shampoo, sla vervolgens de conditioner over en gebruik de
De K18 siliconenvrije formule dringt diep door tot in de cortex van het haar en brengt het haar in slechts 4 minuten terug naar zijn natuurlijke, jeugdige staat. Het kalmeert haarschubben en porositeit.
2. Gebruik een volume spray of creme zoals:
Een micromousse-volumespray met een krachtige hold. Heeft de stevigheid van een mousse en de finishing touch van een ultrafijne spray. Hiermee kun je je haar heel makkelijk in model brengen, terwijl het wel elastisch blijft en veerkrachtig en natuurlijk beweegt.
of de
Geeft volume, body, textuur en glans. Mr. Smith's Volumising Spray geeft volume en body aan de aanzet van fijn en slap haar.
De Marvelous Blowout Cream van Noir Stockholm temt jouw warrige lokken. Het geeft je haar vorm, laat het voller lijken en glanzen. Breng de Marvelous Blowout Cream aan voordat je jouw haar gaat föhnen en geniet van zijdezacht haar met volume en een fantastische frizz control.
De basis om elk kapsel op te bouwen. Mr. Smith The Foundation creëert volume en body, terwijl het flexibele houvast en natuurlijke beweging biedt. Een mix van biologische, inheemse extracten uit Australië voedt en beschermt het haar. Tegelijkertijd wordt de stijl verbeterd en onderhouden.
3. Föhn je haar ondersteboven
4. Toupeer je haar bij de aanzet, kam je haar tegen de richting in, hierdoor krijg  je meer stevigheid en volume. Let wel op dat je dit niet te vaak doet, want heel goed voor je haar is het niet!
Hou je van mooie glanzende lokken? Spray dan een gloss spray over je net geföhnde haar. De
Davines Shimmering mist is een glans- en antipluisspray en geeft een prachtige fluwelige finish.
Toch liever een stevige hold? Bekijk dan onze collectie in hairsprays HIER, van lichte of medium hold tot super strong.
Het is 2de kerstdag en je haar zit nog perfect, maar het is wat vet aan de bovenkant...
De hair Refresher van Davines is een reinigende spray om haar zonder water op te frissen en te reinigen.
Absorbeert de overtollige talg, maakt de haren ogenblikkelijk voller. Het haar is nevelig en geparfumeerd
Benefits
Reinigt het haar en frist het op zonder water te hoeven gebruiken. Vol en volumineus haar, dat niet wordt verzwaard. Het rijstzetmeel absorbeert de overtollige talg.
How to + tip
Schud goed en verstuif het product daarna vanop een afstand van circa 20 cm op droog haar. Zorg ervoor dat je telkens kleine hoeveelheden verstuift. Laat het product circa 1 minuut inwerken en kam het haar dan door. Gebruik de haardroger op koude stand om het haar meer volume te geven.